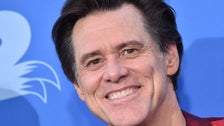 Actor Jim Carrey announced Tuesday he's leaving Twitter by posting an odd cartoon of a naked lighthouse keeper invoking heavenly forces in a deluge. (Watch it below.)
"I'm leaving Twitter, but 1st here's a cartoon I made with my friend Jimmy Hayward," Carrey wrote in a tweet Tuesday. "It's based on my painting of a crazy old Lighthouse Keeper, standing naked in a storm, summoning the angels and shining his lamp to guide us through a treacherous night. I love you all so much!"
Carrey, who's often used the platform to skewer former President Donald Trump and other right-wing figures, appeared to take a funkier approach to his supposed farewell.
"Angels fill this place with light / And all that's good and all that's right," the keeper sings in the sea-shanty-like tune. He bursts into maniacal laughter at the end.
In an artwork earlier in November, the "Sonic the Hedgehog" star slammed new Twitter owner Elon Musk as "Capt Smirk … boldly going where no unbridled ego has gone before."
Carrey joins a parade of celebrities who have announced they were quitting the platform in protest of Musk's tumultuous tenure, including Whoopi Goldberg and model Gigi Hadid.